Effect of silver doping on structural and photocatalytic circumstances of ZnO nanoparticles
Eitemad S. Fadhil

Chemistry Department, College of Science, University of Kerbala, Kerbala, Iraq

Luma Ahmed

Chemistry Department, College of Science, University of Kerbala, Kerbala, Iraq

Ayad F. Mohammed

2- Department of Chemistry, College of Women Science, University of Babylon, Hilla, Iraq
Keywords:
Ag doped Zinc oxide;, bare Zinc oxide, Photocatalytic decolouriz-ation;, methyl green dye, treatment of wastewater
Abstract
This article describes the synthesis of ZnO nanoparticles (Nps) using the co-precipitation method and then calcinated at 500oC for 2 h. The photo activity of ZnO nanoparticles was examined in photo decolorization of methyl green dye under artificial UV -A light. This prepared photocatalyst (ZnO Np) was modified his surface by 2% Ag doped using the photo deposition method under inert gas for 3h. The characterization of undoped and 2% Ag doped ZnO Nps were estimated by Fourier-transform infrared spectroscopy (FT-IR), X-ray Diffraction (XRD), and Atomic force microscopy (AFM). In FT-IR analysis, the new peaks occurred around 624-778 cm-1 confirmed the Ag really is doped on prepared ZnO Np. Based on data from XRD, the mean crystal size was reduced with doped the 2% Ag. The AFM images for the prepared photocatalysts ensure that the shapes of all samples are semi-spherical with nanometer size. Series of kinetics experiments were performed for the photocatalytic decolourization of methyl green dye using undoped and 2% Ag doped ZnO nanoparticle and found to be pseudo-first-order kinetics.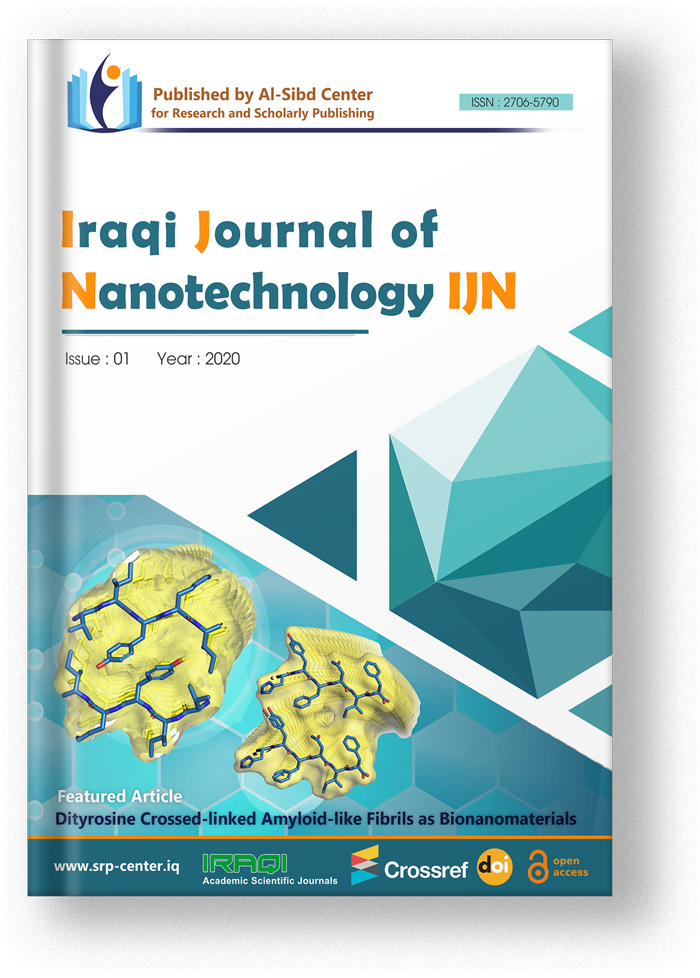 How to Cite
S. Fadhil, E., Ahmed, L., & F. Mohammed, A. (2020). Effect of silver doping on structural and photocatalytic circumstances of ZnO nanoparticles. Iraqi Journal of Nanotechnology, (1), 13-22. https://doi.org/10.47758/ijn.vi1.22
Copyright (c) 2020 Iraqi Journal of Nanotechnology
This work is licensed under a Creative Commons Attribution-NonCommercial-NoDerivatives 4.0 International License.