Dityrosine Crossed-linked Amyloid-like Fibrils as Bionanomaterials
Youssra Kareem Al-Hilaly

Chemistry Department, College of Science, Mustansiriyah university

https://orcid.org/0000-0003-2289-4597

Mahmoud Bukar Maina

College of Medical Sciences, Yobe State University, Nigeria

Alaa Abdul-Sada

Department of Chemistry, School of Life Sciences, University of Sussex, Falmer, UK

Louise Serpell

Dementia Research group, Sussex Neuroscience, School of Life Sciences, University of Sussex, Falmer, UK
Keywords:
Dityrosine cross-link, Metal-catalysed oxidation, Bionanomaterials, Functional amyloid-like fibrils
Abstract
Bionanomaterials have great potential for applications in tissue engineering and regenerative medicine. Recently, amyloid-like fibrils have been used in bionanomaterials preparation due to their stability and biocompatibility. Covalent dityrosine bond formation has been identified as a useful tool in the design of such bionanomaterials. In this study, two short amyloidogenic peptides containing tyrosine residues with the amino acid sequence HYFNIF and VIYKI, were used as a model system to investigate the effect of oxidation and their ability to form dityrosine cross-links. Using a range of biophysical techniques, we showed that both HYFNIF and VIYKI form dityrosine cross-linked fibrils using copper-catalysis, and phosphate buffer is more efficient in dityrosine formation. Dityrosine forms more rapidly in VIYKI fibrils compared to HYFNIF due to the fibrillar architecture. Dityrosine cross-linked HYFNIF and VIYKI fibrils could be useful to prepare bionanomaterials.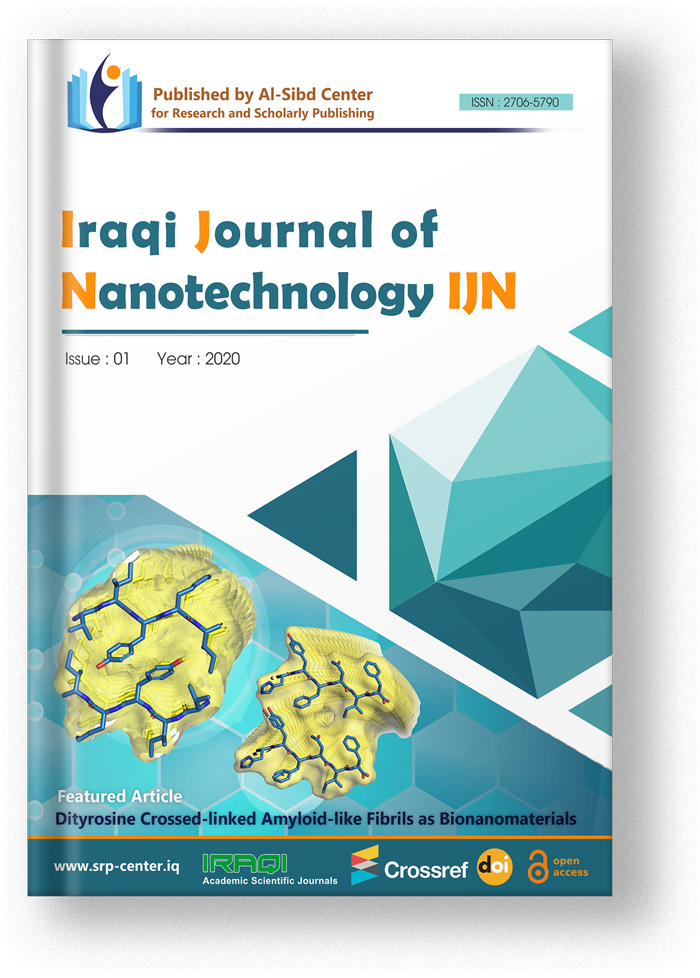 How to Cite
Kareem Al-Hilaly, Y., Maina, M. B., Abdul-Sada, A., & Serpell, L. (2020). Dityrosine Crossed-linked Amyloid-like Fibrils as Bionanomaterials. Iraqi Journal of Nanotechnology, (1), 31-43. https://doi.org/10.47758/ijn.vi1.23
Copyright (c) 2020 Iraqi Journal of Nanotechnology
This work is licensed under a Creative Commons Attribution-NonCommercial-NoDerivatives 4.0 International License.